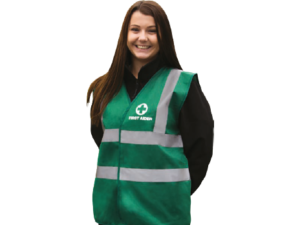 Level 3 Award in First Aid at Work
This 3-day course is designed for those who are required to act as an Emergency First Aider, up until further help arrives. A very practical course aimed at developing the key life saving skills and building confidence should a serious situation arise.
Level 3 Award in First Aid at Work​
This 3 day first aid at work course (FAW) is a Level 3 QCF Award and recommended by the Health and Safety Executive (HSE). Upon completion, this makes you a fully qualified first aider with the skills to deal with any situation.
Our first aid at work courses provide the training, assessment and certification to become a qualified first aider if your assessment shows the need for a first aider in the work place.
Alongside meeting these requirements, you will also be equipped with the knowledge and skills to administer a wide variety of first aid techniques in the workplace with confidence – from treating minor wounds to saving the lives of colleagues in life-threatening situations.
The course is HSE recommended and complies with Health & Safety (First Aid) Regulations and the approved code of practice L74 guidelines for the qualification of workplace first aiders.
If you have any questions, or would like a quote for a group booking, please call us on 01702 782121
This 3 day First Aid at Work Course (FAW) includes course materials, expert tutoring and practical exercises to give learners in-depth training in the following information and treatments:
Principles of first aid
Prevention of cross-infection
Basic life support (CPR)
Breathing management
Managing unconscious casualties
Assessing and treating wounds & bleeds
Treating anaphylaxis
Treating shock or sudden poisoning
Treating burns, poisoning and eye injuries
Treating common major and minor illnesses
Managing asthma attacks and choking
Fractures, dislocations and head injuries
Managing epilepsy and diabetes
Record keeping and equipment use
Legal aspects and secondary surveys
AED
Price: £199.00 per person or for a group quote please contact us
Location: Our training centre is located in the heart of Southend on Sea highstreet. A 3 minute walk from Southend Central train station. A 10 minute walk from Southend Victoria train station. A 5 minute walk from Southend Central bus station. 2 Long stay car parks within 5 minutes walking distance.
Upon successful completion of the multiple-choice question paper and practical exercises, each learner will receive an Ofqual approved and nationally recognised First Aid at Work certificate which is valid for 3 years.

Why Choose Essex Training Group?
Visit our classes in Southend-On-Sea Essex, or we can provide training at your workplace
The course meets H&S (First Aid) Regulation and is HSE recommended
Regularly updated so you always get the latest knowledge and skills
Expert first aid tutors with real experience in the field
A friendly and supportive learning environment